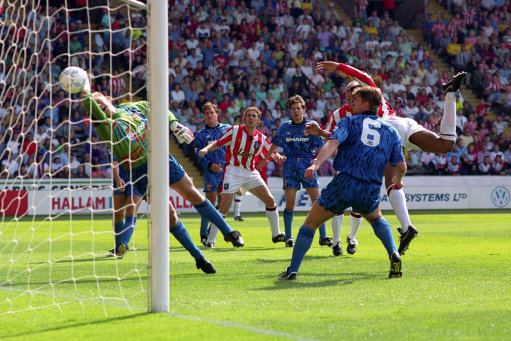 History maker: Brian Deane heads home the first Premier League goal.
On 15th August 1992, Sheffield United beat Manchester United on the opening day of the new Premier League season by two goals to one. The result will hardly live long in the memory but it was the events fivbe minutes into the game which will stand set in stone. Carl Bradshaw's long throw was flicked on at the near post by David Tuttle and Brian Deane reacted quickest to head home past Peter Schmeichel
The Blades may be in FA Cup action today against Leyton Orient, but the Blades cannot possibly earn this mantel. There are five top flight matches taking place and is likely that the record will be taken today.
Arsenal vs. Tottenham Hotspur
Hull City vs. Southampton
Liverpool vs. Watford
Swansea City vs. Manchester United
Leicester City vs. West Bromwich Albion
As far as milestones are concerned, and I may be a bit biased here. The only goal which stands proud in goals millstones is the very first goal, scored by Sheffield United. United were also the first goal scorers in the 2006-07 season when Rob Hulse headed home against Liverpool, though this didn't break any sort of record. Some records have credited the first ever goal to Teddy Sherringham (Tottenham Hotspur) but he is only awarded first televised goal in the Premier League.
Spurs would later put themselves in the record books when Les Ferninand slotted home against Fulham in December 2001, making him the 10,000th scorer. Fulham's Moritz Volz became the 15,000th scorer at Stamford Bridge.
The 20,000th goal was netted by Aston Villa's Marc Albrighton in December 2012 against Arsenal.
@blades_mad1889