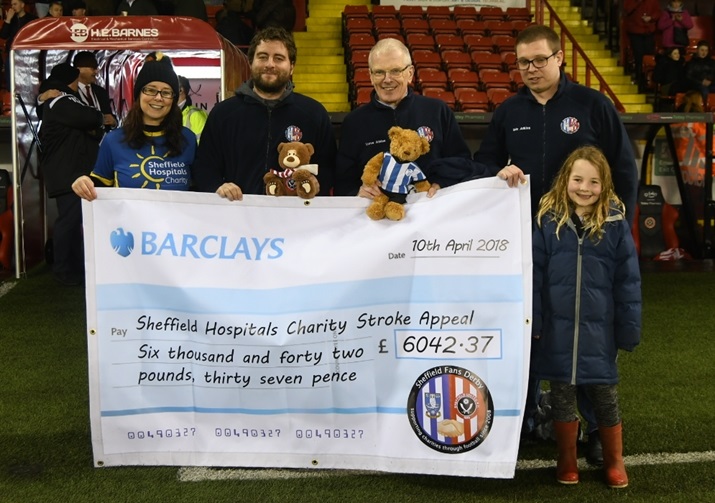 The fourteenth encounter between the two sets of supporters took place at Bramall Lane on Monday, 22nd May 2017. The result finished 3-3 with the Blue and White half celebrating after winning 5-3 on penalties.
The Sheffield Fans Derby are proud to announce that £6042.37 was raised from SFD14 in aid of Sheffield Hospitals Charity Stroke Appeal. The event took place in May 2017 at Bramall Lane (home of Sheffield United FC) and saw the Sheffield Wednesday Fans run out victors after penalties on the night.
The cheque was presented by Stephen Atkins, Iain Atkins, Neil Tilbrook & Matt Phillips to Isla Denoon from SHC at Bramall Lane on Tuesday 10th April 2018 when Sheffield United hosted Middlesborough.
We would like to thank everyone who was involved in the event without whom this total wouldn't be possible!
This now takes the overall total raised to £43,043, for 14 different charities/appeals over ten years, £25,802 for Sheffield Hospitals Charity in six events.
Iain Atkins, SFD Organiser and Sheffield Wednesday Manager
"I am once again overwhelmed at the total that the SFD has managed to raise. This appeal was really close to my heart as it is a service that our family have used recently and to be able to raise this phenomenal amount to support the Stroke Unit is amazing. This was our tenth year, our most successful event, held at Bramall Lane, everything came together. I want to thank everyone who helped us raise this outstanding amount and to Dave McCarthy and Sheffield United who helped make it all happen."
Isla Denoon, Sheffield Hospitals Charity
"The money raised over the years, has made a massive difference to local patients and their families. Iain, Stephen, Neil and everyone who supports them, work so hard every year, to raise money for local causes and what they achieve really is fantastic."

Neil Tilbrook, SFD Organiser
"Wow! Another record for Sheffield Fans Derby! To raise over £6000 for a game of football is phenomenal! I think I said that at an earlier event when we raised £2000!! The event goes from strength to strength each year raising funds for local charities. The Atkins family have once again got everyone to pull together from both sides of the city. The Owls came out on top at Bramall Lane, but the result almost pales into insignificance when you realise how the money raised will help Sheffield Hospitals Charities and possibly each and every one of us. Bring on the next event!"
Matt Phillips, Sheffield United Fans Manager
"I am delighted & extremely proud that we have manage to raise a SFD record amount of £6042.37 for SFD 14. I would like to thank everyone involved in the event to enable us to raise this amazing amount of money for the Stroke Unit appeal at Hallamshire Hospital"
Steve Atkins, SFD Treasurer.
"2016 was a year that affected me personally as I had a stroke and was treated by the Royal Hallamshire Hospital Stroke Team. It changed my life forever. That year we were already running SFD 13 for the A & E department at the Northern General and I was unable to play for the first time since the SFD started.
For SFD 14 it was particularly satisfying to support the Stroke Appeal, even though I still couldn't play, and then to raise such a large amount has been overwhelming.
My thanks go to all the people who help at the event, the players of both teams, the officials, the sponsors and the volunteers who man everything from the gates to the stalls in the ground. We may have the ideas and plan the event but without all those people who help it could not happen.
Thanks also have to be given to Dave McCarthy and Sheffield United who have given us major support in this event and previous ones"
Website: www.sheffieldfansderby.co.uk
Twitter: @SFDofficial1
Facebook: www.facebook.com/shefffansderby