Owing to last year's Boxing Day fixture suffering the effects of a frozen pitch, the Blades visit to Wigan Athletic was postponed and leaving their 2-1 defeat at Port Vale as their last fixture on this festive day. When the game at the DW Stadium was eventually played, United came from three goals behind to draw 3-3 at Wigan.
United had to wait five years from their formation to play a professional fixture, and it came with defeat at West Brom. Their first victory was in 1896 - a 2-0 home victory over Sheffield Wednesday.
This weekend's opponents Oldham have shared two previous meetings, both at Bramall Lane. The meeting in 1910 was the very first between the two clubs; Oldham came away with a 2-1 victory. The second meeting on this day came most recently in 2013, sharing a 1-1 draw.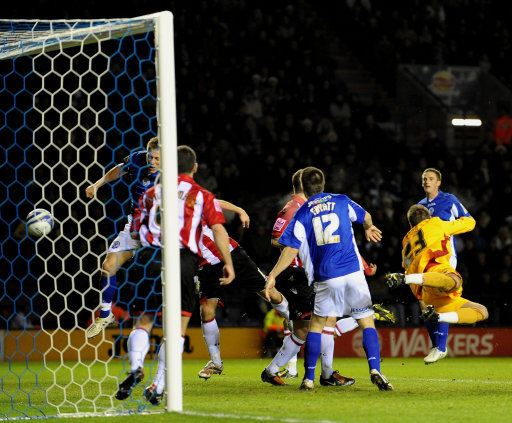 Boxing Day 2009 - Leicester City 2-1 Sheffield United: Leicester City's Michael Morrison heads the first goal of the game.

Whilst fixtures may have been set out, the British weather has always been a gamble with some of United's Boxing Day festivities falling foul for different reasons. Lists of postponed clashes are as follows;
| | | |
| --- | --- | --- |
| 1932 | Middlesbrough (h) | Fog |
| 1962 | Manchester City (a) | Unknown |
| 2015 | Wigan Athletic | Frozen Pitch |
Biggest Win
| | | |
| --- | --- | --- |
| 26 Dec 1902 - H | Bolton Wanderers | W 7-1 |
| 26 Dec 1988 - A | Nott's County | W 4-1 |
Biggest Defeat
| | | |
| --- | --- | --- |
| 26 Dec 1955 - H | Luton Town | L 0-4 |
| 26 Dec 1979 - A | Sheffield Wednesday | L 0-4 |
Statistics
| | | | | | | |
| --- | --- | --- | --- | --- | --- | --- |
| | P | W | D | L | GF | GA |
| Home | 52 | 29 | 13 | 10 | 107 | 59 |
| Away | 45 | 11 | 9 | 25 | 60 | 89 |
| Total | 97 | 40 | 22 | 35 | 167 | 148 |
---
| | | | |
| --- | --- | --- | --- |
| YEAR9 | OPPONENT | H/A | RESULT |
| 1889 | - | - | - |
| 1890 | - | - | - |
| 1891 | - | - | - |
| 1892 | - | - | - |
| 1893 | West Bromwich Albion | A | L 1-3 |
| 1894 | Blackburn Rovers | A | L 2-3 |
| 1895 | Sheffield Wednesday | H | D 1-1 |
| 1896 | Sheffield Wednesday | H | W 2-0 |
| 1897 | - | - | - |
| 1898 | West Bromwich Albion | A | L 0-3 |
| 1899 | - | - | - |
| 1900 | Manchester City | H | D 1-1 |
| 1901 | Stoke | A | L 2-3 |
| 1902 | Bolton Wanderers | H | W 7-1 |
| 1903 | West Bromwich Albion | H | W 4-0 |
| 1904 | Stoke | H | W 5-2 |
| 1905 | Nott's County | A | W 3-2 |
| 1906 | Nott's County | H | W 2-1 |
| 1907 | Newcastle United | A | W 3-2 |
| 1908 | Sheffield Wednesday | H | W 2-1 |
| 1909 | - | - | - |
| 1910 | Oldham Athletic | H | L 1-2 |
| 1911 | Newcastle United | A | D 2-2 |
| 1912 | Bolton Wanderers | H | L 0-2 |
| 1913 | Aston Villa | A | L 0-3 |
| 1914 | Blackburn Rovers | H | L 1-2 |
| 1915 | - | - | - |
| 1916 | - | - | - |
| 1917 | - | - | - |
| 1918 | - | - | - |
| 1919 | Bradford Park Avenue | A | L 0-1 |
| 1920 | - | - | - |
| 1921 | Aston Villa | H | L 2-3 |
| 1922 | Tottenham Hotspur | H | W 2-0 |
| 1923 | Cardiff City | A | L 1-3 |
| 1924 | Sunderland | H | W 2-1 |
| 1925 | Leicester City | A | D 2-2 |
| 1926 | Aston Villa | H | W 3-1 |
| 1927 | West Ham United | H | W 6-2 |
| 1928 | Manchester United | H | W 6-1 |
| 1929 | Liverpool | A | L 0-2 |
| 1930 | Blackpool | H | W 5-1 |
| 1931 | Arsenal | A | W 2-0 |
| 1932 | - | - | - |
| 1933 | Birmingham City | A | L 2-4 |
| 1934 | Barnsley | H | W 2-1 |
| 1935 | Swansea City | H | W 4-1 |
| 1936 | Norwich City | H | W 2-0 |
| 1937 | Coventry City | A | D 2-2 |
| 1938 | Southampton | H | W 5-1 |
| 1939 | - | - | - |
| 1940 | - | - | - |
| 1941 | - | - | - |
| 1942 | - | - | - |
| 1943 | - | - | - |
| 1944 | - | - | - |
| 1945 | - | - | - |
| 1946 | Brentford | A | L 1-2 |
| 1947 | - | - | - |
| 1948 | Bolton Wanderers | A | L 1-6 |
| 1949 | Preston North End | A | L 1-4 |
| 1950 | Hull City | A | D 1-1 |
| 1951 | Nott's County | H | W 1-0 |
| 1952 | Doncaster Rovers | H | W 2-0 |
| 1953 | Manchester City | A | L 1-2 |
| 1954 | | | |
| 1955 | Luton Town | H | L 0-4 |
| 1956 | Lincoln City | A | L 1-4 |
| 1957 | Blackburn Rovers | H | W 4-2 |
| 1958 | - | - | - |
| 1959 | Cardiff City | A | L 0-2 |
| 1960 | Sunderland | A | D 1-1 |
| 1961 | Blackpool | H | W 2-1 |
| 1962 | | | |
| 1963 | Nottingham Forest | A | D 3-3 |
| 1964 | Manchester United | H | D 1-1 |
| 1965 | | | |
| 1966 | Manchester United | H | W 2-1 |
| 1967 | Southampton | A | D 3-3 |
| 1968 | Crystal Palace | H | D 1-1 |
| 1969 | Huddersfield Town | A | L 1-2 |
| 1970 | Leicester City | H | W 2-1 |
| 1971 | | | |
| 1972 | Liverpool | H | L 0-3 |
| 1973 | Manchester United | A | W 2-1 |
| 1974 | Middlesbrough | A | L 0-1 |
| 1975 | Middlesbrough | H | D 1-1 |
| 1976 | | | |
| 1977 | Leyton Orient | H | W 1-0 |
| 1978 | Newcastle United | H | W 1-0 |
| 1979 | Sheffield Wednesday | A | L 0-4 |
| 1980 | Fulham | A | L 1-2 |
| 1981 | Darlington | H | D 0-0 |
| 1982 | | | |
| 1983 | Rotherham United | H | W 3-0 |
| 1984 | Fulham | A | L 0-1 |
| 1985 | Sunderland | A | L 1-2 |
| 1986 | Hull City | H | W 4-2 |
| 1987 | Aston Villa | H | D 1-1 |
| 1988 | Nott's County | A | W 4-1 |
| 1989 | Leeds United | H | D 2-2 |
| 1990 | Luton Town | A | W 1-0 |
| 1991 | Coventry City | H | L 0-3 |
| 1992 | Manchester City | A | L 0-2 |
| 1993 | Liverpool | H | D 0-0 |
| 1994 | Middlesbrough | H | D 1-1 |
| 1995 | Birmingham City | H | D 1-1 |
| 1996 | Swindon Town | H | W 2-0 |
| 1997 | Stoke City | A | D 2-2 |
| 1998 | Birmingham City | A | L 0-1 |
| 1999 | Birmingham City | A | W 2-0 |
| 2000 | West Bromwich Albion | H | W 2-0 |
| 2001 | Bradford City | A | W 2-1 |
| 2002 | Walsall | A | W 1-0 |
| 2003 | Coventry City | A | W 1-0 |
| 2004 | Coventry City | A | W 2-1 |
| 2005 | Norwich City | H | L 1-3 |
| 2006 | Manchester City | H | L 0-1 |
| 2007 | Blackpool | H | D 1-1 |
| 2008 | Wolverhampton Wanderers | A | D 1-1 |
| 2009 | Leicester City | A | L 1-2 |
| 2010 | Hull City | H | L 2-3 |
| 2011 | - | - | - |
| 2012 | Scunthorpe United | H | W 3-0 |
| 2013 | Oldham Athletic | H | D 1-1 |
| 2014 | Port Vale | A | L 1-2 |
| 2015 | - | - | - |
| 2016 | Oldham Athletic | H | ?-? |