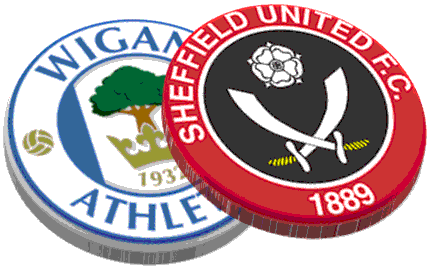 This fixture fell victim to a number of games postponed throughout the Lancashire region due to bad weather on Boxing Day. With cancelations at Bury, Accrington, Rochdale, Blackburn and Blackpool it left only Manchester City as the only home team able to play out their corresponding fixture.
Since (and including) the Blades drew 1-1 at near neighbours Barnsley on 28 November, United had gone five games unbeaten prior to the New Year. But they have started 2016 without a win having lost their League One encounter at home to Peterborough United by three goals to two. Having taken part in the Emirates FA Cup last Saturday, the Blades currently lay 9th in the table and a victory would see them jump to 7th and a point behind Peterborough going into next weekend's fixture at Colchester.
The FA Cup third round took United to Old Trafford to face Premier League giants Manchester United. Having played their on three occasions as a neutral venue, it was the first time that the Blades had faced the Red Devils in the FA Cup on that particular venue. Adkins Wizards produced a gallant performance and were well worthy of a draw (at least). A replay would have been a fitting reward but three minutes into stoppage time on top of the 90, a slight miss-timed challenge on Memphis by Hammond in the box awarded the hosts with a penalty. England International Wayne Rooney stepped up and sent Long the wrong way to book their place in round four.
Having famously met Wigan Athletic in the Premier League during the 2006/07 season, which United won the meeting in Wigan (least said about the fixture at Bramall Lane), the Latics remain the ONLY football club the Blades have played in all four Divisions. Blades boss Nigel Adkins returns to Wigan Athletic where he kept in goal for the Latics between 1986 and 1993, playing over 150 times for the Lancashire side. At the age of 23 he suffered a double spinal fracture and thus putting an end to what otherwise could have been a glittering career.
With Matt Done (hamstring) making his surprise return to the squad last Saturday, Nigel Adkins is expected to have an injury-free squad at his disposal.
Blades-Mad Prediction: Wigan Athletic 1 Sheffield United 1
Why not make your opinions heard by joining the Blades-Mad Message-Baord