Tomorrow will mark 15 years to the day since Sheffield United won by two goals to one at Hillsborough in the first league meeting in S6 for seven years. Second goals from Laurent D'Jaffo and Carl Asaba secured a memorable win in what was, for myself, the first time I had seen United beat Wednesday. Gerald Sibson scored a late cracker to see the game end with a nail biting finish.
Unfortunately, I was unable to locate any images of the goal scorers but below are two images from the game...
1) Sheffield Wednesday's Michele Di Piedi (right) loses out to Sheffield United's Rob Kozluk (left) as David Kelly looks on during the Division One match at Hillsborough, Sheffield.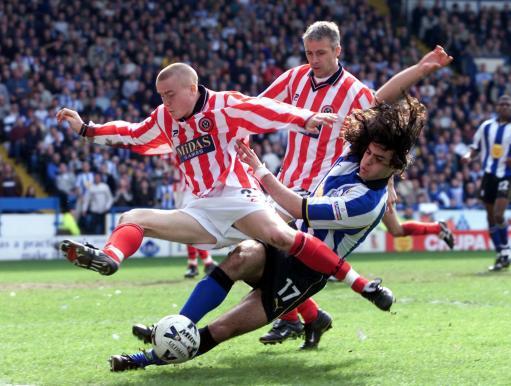 2) Sheffield United's Paul Devlin (right) holds off Sheffield Wednesday's Leigh Bromby, who went onto play for the Blades, during the Division One football match at Hillsborough, Sheffield.