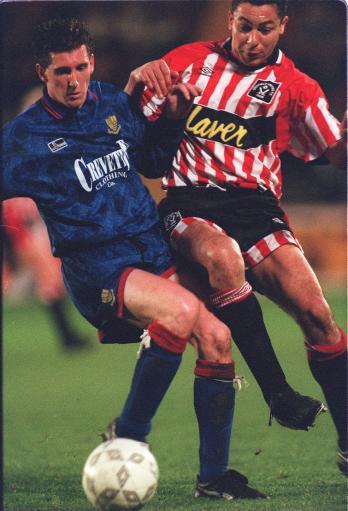 United had not long since been relegated from the Premier League and Dave Bassett had retained his job with the mission to take them back to the top flight. Supporters were incensed by the on goings at boardroom level and in Bassett's opinion the supporters were attempting to overthrow Reg Brearley and as a result were affecting his players.
Bassett stormed: "The atmosphere is so bad here we would be better playing all our games away from home. There is an undercurrent at the moment because of the problems over the ownership of the club. That has nothing to do with me or the players. Unfortunately, the fans didn't seem to be getting behind the players and that is getting through to them. If we had lost, I think they would have started ripping up the Kop. The crowd haven't helped us at all in the last three games. They are beginning to take their frustrations out on the team and that is wrong."
Supporters waved leaflets before the kick-off, urging the chairman to quit the club and chanting insults.
Despite such distractions the Blades won their third home game in a row, with Aussie striker Carl Veart proving the striking difference. He had experienced difficulties settling into the side since his 200,000 move from Adelaide City in the summer but was fulfilling the void left by an absent Jostein Flo.
Veart was instrumental in both goals, firstly winning a first half penalty, which was duly despatched by Dane Whitehouse. In the 65th minute he pounced to net United's second goal of the day and thus killing off any opportunity of Southend getting into the game.
He had almost struck the opener himself in the 39th minute but was frustratingly denied by a goal line clearance after steering Phil Starbuck's low cross goal wards.