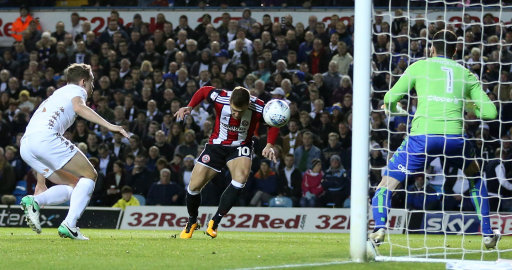 In doing so United won at rivals Wednesday and Leeds in the same season for the first time in their history. United dominated the first half and deservedly led but were pegged back but a late winner from teenage protégé David Brooks saw the Blades hit the summit in front of a delirious away following at Elland Road.

Manager Wilder named an unchanged side whilst Leeds manager Christiansen also brought back many of the players from the impressive win at Ashton Gate, after he had changed things for the game at Leicester in the Carabao Cup in the week.

In front of a large crowd, United raced out of the blocks and were already zinging the ball about before they took the lead inside two minutes. From a throw in from the right, Clarke cleverly flicked the ball over his head into the path of Duffy who hit over a cross on the half volley. SHARP managed to get in between two defender and head down and in via Lonergan. It was a tremendous start for the Blades yet again. Soon after they were on the attack again. Duffy nearly fed Clarke and then Fleck played in Sharp who was crowded out. The midfield trio for United were dominating the ball and the wing backs were bombing forward. Leeds could not get out of their half and Duffy then knocked a clever ball across that Clarke diverted narrowly wide. Duffy then robbed Ayling and fed Baldock but his shot was saved by Lonergan. The attacks kept coming. Clarke robbed the dithering Pennington and he sent over a low cross which Sharp flicked goal wards but Lonergan made a superb point blank save too flick the ball behind.

Leeds could not muster any kind of attack and Coutts was springing another United attack soon after and Duffy again nearly fed Clarke. Baldock then shot over and it was relentless from the visitors. Stevens was adjudged to have fouled Saiz and Leeds finally had a chance but the free kick was punched clear by Blackman. United came again and Sharp nearly fed Stevens as United looked to go forward at every opportunity.

Leeds had not been in the game but they levelled out of the blue on the half hour. An innocuous lofted ball saw Carter Vickers get his head to it but the ball dropped centrally. Baldock did not react and nobody closed down PHILLIPS who hit a superb low shot past Blackman to give Leeds a leveller they scarcely deserved.

Stevens was booked not long after for persistent fouling. Undeterred, United came again and just before the break should have restored their lead. Fleck took a clever quick free and Sharp peeled away but with the goal at his mercy hit the ball straight at Lonergan and could not convert the rebound. It was a big chance. The half time whistle came soon after and United will have been bitterly disappointed not to be well in front.

The second half saw Leeds up the pressure and they started to win more of the loose balls. Saiz was causing problems with his running and Coutts was booked for unceremoniously dumping him to the deck. Leeds were now having more of the midfield and United were sloppy when they did have possession. Cooper had to go off after picking up a knock and Jansson came on but in the next attack Leeds nearly scored. Saiz drifted inside again and hit a great shot that swerved away from Blackman, bounced off the inside of the post, hit the back of Blackman and bounced away.

Saiz then induced a tackle from O'Connell and United had another man booked for a foul on the Leeds man. Leeds had a free kick in a dangerous area but an odd line up with Leeds having a secondary wall behind United's defensive wall, saw them all run out to stop them being caught offside but Phillips effort was a woeful slice. The same man was lucky to stay on the pitch soon after as he caught Baldock with an awful high and late tackle. The referee deemed it a yellow when on reflection after the game he will realise it was a regulation red card. The United man was lucky to escape not being seriously hurt.

The frenetic pace continued and Alioski had a header saved at the near post after more good work from Saiz but United had started to get more of a foothold back into the game now. Hernandez came on for Alioski. Baldock was then booked for a foul of his own.

The visitors sensed that Leeds going forward more would see gaps opening up at the back and with this in mind, brought on Brooks for the tiring Sharp.

Instantly he drifted down the right and drew a foul from Viera. The free kick was cleared after a melee in the box. United started to have more of the ball again and a nice move saw Brooks find Fleck whose cross was perfect for Clarke but his shot lacked power and Lonergan saved comfortably. This opening drew added belief United could get a winner and so it proved.

Fleck and Duffy combined and a perfectly timed ball fed BROOKS on the angle. Taking the ball on the run, the substitutes finish was calm and precise giving Lonergan no chance. It was a well-made and superbly taken goal and Brooks ran away chased by his teammates to celebrate in front of the travelling contingent.

Clarke was booked for some reason after the goal and then Grot came on for Anita as Leeds now had two giants up top for the remaining ten minutes of the game.

Fleck was booked for a trip earning him a suspension and then soon after he got involved with Saiz who took exception to Duffy not leaving the field at the pace he wanted when Lundstram replaced him.

Brooks skipped away again and Viera cynically chopped him down and he too added to the referee's book with yet another yellow card. Clarke headed wide from the free kick as United tried to make it safe.


Five minutes of additional time were to be played but Leeds were now resorting to pumped balls into the big men in the box. Brooks had a shot well over for United but now they were determined to keep a solid shape and ensure there were no openings at the other end. Grot won one header but this was easy for Blackman. O'Connell, Basham and Carter Vickers all won headers as United stayed firm. Hernandez tried to find an opening and Saiz nearly got in but two vital blocks stopped any possible chances. The final cross saw Coutts head clear and the final whistle came seconds after that. The United players and management celebrated wildly another huge win as chants of 'We are top of the league, say we are top of the league' engulfed the West Yorkshire air.

United – Another excellent first half where I was sat at home purring (maybe that was the cat). We knocked it about brilliantly. So fast and so purposeful. It was superb to watch. Everyone involved in the moves. Wing backs, centre backs and midfield and strikers chasing and linking. It was sublime at times. We scored another early goal as we got out of the traps superbly again and then threatened to run riot. Better finishing or poorer keeping (how I wished that hopeless keeper that had been in the net – played at Hillsborough – had been kept in the side!) and we would have had the game in the bag. Still even after we were pegged back with their first shot of the game, we came again and nearly got in front again. Overall, though I could not fault another first half where we won tackles, pressed, dominated individual battles and as a team completely imposed ourselves on Leeds. We played lovely little triangles, moved it around at pace and the football was impressive. Duffy at the heart of everything good but the two midfield lads also very good again. Clarke was such a nuisance and at times looked like he would get in every time he chased them down. Everything was good save for a bit of sloppy defending and a good strike.

Second half as with last week you felt it was inevitable they could not sustain the level of play and the tempo and so it proved. Leeds started to get into us more and they had a decent spell and even won midfield for a period. The lad Saiz started to do what Duffy had done for us and they nearly scored. We became a bit ragged and even Coutts and Fleck gave the ball away too much. We settled down and the game became more even. They had a headed chance but we started to gain control and when Brooks came on we became an attacking threat again. We won a few free kicks and corners as Brooks started to run at them and then Clarke missed a good chance. Still another lovely patient move led to the winner. After this our game management was excellent and the players all just kept their shape and composure. It was another great win and well deserved. We went top and stayed there today.

At the moment it is dreamland but listening to neutrals of other fans, you start to realise how good we are. We are winning and winning by playing really well and playing such delightful football. We knock it about at pace and get into good areas. We are determined when we do not have it and also are not a soft touch anymore and in some ways the 6 yellow bookings are a good sign for me. A few years ago, we barely used to make a tackle. Now we get in and sometimes do bring players down if they go past us. The passion and commitment matches the level of football. We look a really good side and at the moment confidence is so high. Everyone knows their job. You are struggling to find players who are weak link and even last night, all the team contributed, even the subs of course.

We go to QPR who are on a high but kind of glad they got a win out of the way but beat a good Wolves side. They will fancy their chances but at the moment we fear no one. I think Wilder may make more than the one enforced change (Fleck) and we might even see Donaldson, Brooks and Wright. Just a hunch. We have put so much in recently. We changed it at Forest and lost (despite a good showing though) so you never know. We have two more games before the next break so we need one big push of course. These breaks might be helping us as we did not have that in League One whilst the other teams are used to it. We can almost play these games in bunches and know we have a break coming up and then go again. For some players like Duffy and Clarke having these breaks may help as the intensity we play means Saturday-Tuesday-Saturday it is tough to keep the levels up but we are doing it!

There is a lot of talk over whether we can maintain it and are we a genuine promotion contender but I think Wilder will just look to get 50 points and then set another target internally. We are flying and hard not to get carried away but at the moment I am not even thinking about playoffs or god forbid even automatic I am just enjoying the ride and watching a really, really good United team playing so brilliantly. I am just kind of taking each game at a time but also looking forward to each game more and more as it is so enjoyable. I have watched Man Utd, Spurs, Chelsea, Bournemouth, Forest, Hull and no one has impressed me to watch as much as my own team this weekend! That says it all.

It is just great to watch and I think rather than thinking about too far ahead or what might happen, which is fun, we just need to lap it up. With our rivals struggling also, it has been a long time waiting for us success starved Blades and to see the table and see the performances, we just need to enjoy it. It might not last (hope it does) but for now it is magnificent!

Leeds – Felt for the first half they were completely outplayed and if we had gone in 3-0 it would have been a fair score. They could not live with our pressing, movement and passing. They looked shell shocked how good we were and never got into the game. The defence was run ragged and the midfield never got into the game at all. We took them apart and without the keeper or better finishing it would not have been a contest. Still they stuck in it and scored a well taken goal and were undeservedly level. After this they nearly went behind again but somehow went in level. Second half they came into it and had a good spell maybe edging it for a period and hit the post. After this the game was more even and we started to get on the ball more. There was a chance apiece before Brooks scored the late winner. After this they huffed and puffed but never really looked like getting another leveller.

Over the course of the piece they could not argue that the better side won. The first half was very one sided and even though in the second half they improved it was still quite even really. The Blades passed it better most of the night and created better chances over the course of the game. I felt that the away side showed more determination and ultimately wanted it more.

Leeds gave it a go for a spell and started to win tackles and unsettle us but ultimately, they could not maintain it over a full game. They have a few quality (foreign) individuals who can run at people and cause defenders to go the other way but have some statuesque defenders and the centre forward did not want to know for long spells. Many people see them as a top 6 side but on this evidence the Blades look much more the likely. I do not think anyone thought they would be a top two side and maybe they are slightly ahead of schedule. They have spent a far bit of money and have new owners and yet another new manager. They need a period of stability. I can see them being around the top 6 but will need to dramatically improve their defence if they want to make the playoffs – the game at Hillsborough showed how much they can fall apart and they are too inconsistent at the moment. Still they are right up there and with some of the individual talent they have and a passionate home support they will fancy they can turn over most teams at Elland Road.

Opposition Man of the Match: They had a few decent players. The lad Aloisi showed a few flashes and I felt that Lonergan made two or three very good saves. Also despite his awful tackle, Phillips scored a really good goal and showed some decent pieces of skill too. He is a good box to box midfielder. The standout was Saiz. He caused problems all night and is good on the ball, runs at people and looks to get shots away. Unfortunate to hit the post and took some good free kicks. He is a real livewire and the one player we struggled to get to grips with. Only gripe was his continual penchant for diving, waving an imaginary yellow card and his general histrionics. Shame as he is a good player so does not need to do that.

Opposition Weak link: A few players were very average but some were really poor. They had really hyped up the teenager Viera in midfield but I thought he was poor. The full back Ayling gets forward well but leaves big gaps defensively as shown on the winner. Lasonga was pretty hopeless all night. Immobile, slow and barely could get off the ground. He barely touched the ball first half but then was involved in the equaliser. However, the two centre backs Cooper and Pennington were hopeless and never coped with our pressing and movement all night. Pennington, the centre back on loan from Everton, was awful and made so many mistakes, not picking up men, giving it away and just totally switching off.

Blackman 7/10 – Nothing to do first half at all and then he is picking the ball out of the net. It was a great strike and not a lot he could do really although some will say too many shots of that nature are beating him but as with the goals at Forest not sure what he could do with any of them really? After this he commanded well with a few takes, a punch and generally used his box well. Got a bit lucky maybe with the one that hit the post as the ball could have come off him and gone in. He is fine though at the moment and part of our success and until he had a few poor games, is our undoubted number one. Tough on Moore but that is the way Football goes sometimes.

Baldock 6.5/10 – I felt both full backs were not quite as good as they have been (they have been brilliant). He started well and had a shot over and involved in another couple of moves down the right. He showed his athleticism and fitness. Going the other way, he got caught out a little bit a few times. Also, a bit slow to react to the goal I felt and needed to be a bit more alert. Got caught with that awful tackle near the end and lucky not to get a bad injury. What I will say is he did not react by rolling around stupidly and this may be saved the Leeds man. Clearly loving it at the moment judging by his reaction to the goal and the final whistle.

Stevens 6.5/10 – Thought this was his worst game since Cardiff away but still fine really. He did get forward at times and in the first half nearly got in with a chance and was involved in some neat forward moves. However, he also got caught out a bit positionally and led to him committing three fouls with the final one seeing him get booked. Second half he again gave his man a bit too much time but he stuck to his task and finished the game ok from a defensive point of view.

Carter Vickers 7/10 – Started the game well as the whole team did. Won headers and came onto the ball and stopped them coming anywhere near our goal. As with last week he headed a ball away and it went a bit centrally which led to the goal although it was a good strike but after this he had a shaky spell and gave it away a few times just before the break. I felt he had a really good second half though and won a number of headers and calmed down a lot after the end of the first half and finished the game well. At times he does panic a bit but he is only young. His size is an asset and with the three centre backs we have we rarely get imposed at this end anymore.

O'Connell 7.5/10 – Very good performance again. Dominant against the big Leeds striker and headed a lot of balls away. Won tackles and galloped forward on the overlap too. Better footballer than you think and very composed on the ball. Strong as an ox and never shirks anything. As Leeds threw balls forward at the end he won a lot of clearances to stop any kind of chance materialising. He got caught a few times as opponents realise he does like to check back onto his left foot but I love the fact he does not just boot it clear sometimes and tries to pass it and keep the ball. A colossus this season.

Basham 7.5/10 – Another excellent performance where he defended well and also came out with the ball when he could. Won a lot of headers and blocks and so committed in the tackle. He reads the game really well. He at times is a bit ungainly when he comes forward but on occasions shows some lovely skill as he goes the opposite way to what an opponent expects. He has been excellent in recent week and a real unsung hero.

Coutts 7/10 – Mixed. At times brilliant again but other times not quite levels he has been. Some superb pieces of skill and clever passes and showed his energy levels too. He was at the heart of our excellent first half performance but he also gave it away a few times. However, when we were at our best he was picking up the ball and driving us forward. He managed to come away from players so easy and we completely dominated this area. I felt at times he tried to take too many touches and got caught out a bit second half. He seemed slow to sense danger and got crowded out a bit as Leeds got amongst us more. Took a booking he had to take as they broke away. At times Saiz caused him and Fleck problems and showed that sort of player with pace and drive can cause us problems in this area.

Fleck 7/10 – Not as good as he has been and like Coutts I felt did some really good things but also gave it away a few times and overplayed sometimes (I know I should not be critical of us wanting to keep the ball so much!). Some of our good football first half saw him, Coutts and Duffy link really well. The pace of the passing and often it happening first time. We move it about so quick. He is another with such lovely feet and can just drift off into space. Brilliant free kick nearly led to Sharp scoring. Second half we saw less of the ball and lost midfield for a period. Got booked for a clear trip and then got involved when Duffy was going off and they protested about the time he was taking. Bit daft and some refs might have booked both him and the Leeds man leading to him getting a stupid red card. Still after we got in front he helped us keep the ball better and see out the game. Hopefully come back refreshed after a full week off, for the game against Hull.

Duffy 8/10 – Everything good game through him, particularly first half. He was a nightmare for Leeds getting into little pockets, playing give and go's, little through balls and jinking one way and the other. A joy to watch. He made the first with a clever run and nice lobbed cross on the run and then of course made the second with another lovely weighted pass. Two goals, two assists. Outside of this a lot of our good football came through him. He does have quiet spells in games but I felt he worked hard tonight and got back quite a bit too. He really is a key man at the moment and another you cannot really leave out other than for the fact he may need a rest now and again.

Sharp 7/10 – Scored a text book Sharp goal where he drifted off his defender and buried a header. He then had another great effort when he flicked goal wards and generally worked very hard with Clarke causing all sorts of problems first half as the whole team linked so well. He showed superb awareness and movement to spin off on the quick free kick, reminiscent of Bradford away last season, but after doing the first bit so well he missed the chance. I was really surprised he did not bury it. Maybe he had too much time. Second half they had a better spell and he did not keep it when it came back and was behind his man a few times and I felt it was the right time to make the change.

Clarke 8/10 – Another performance where he put so much effort in and did not stop running. He was immense at times in terms of sheer effort, chasing down full backs, centre backs and the keeper. He never stopped and looks like a man possessed at the moment! He contributed to the first goal, nearly made another for Sharp and his hold up play was great throughout. The defenders were getting ragged about by him all game. In comparison to the big lump up top for them the contrast was vast. The only negative was he did not quite catch that shot near the end when it was still 1-1 when he would have backed himself on his left foot. Hard to leave out at the moment and the only way you do is to give him a rest as he might burn himself out if he keeps this level of effort up!


Subs:

Brooks – Thought he was a bit off from his superb performances/cameos we have seen this season when he came on last week but last night he showed his class. He drifted past players a couple of times drawing fouls, showed some nice touches and looked to get on the ball. His goal was a great run and such a cool and calm finish. I felt he needed and maybe deserved a goal and will do wonders for his ever-growing confidence. Defenders look terrified of him and he showed how quick he is also again. I feel he may start at QPR in the week. A player that is a joy to watch but then you can say that about so many of our players.

Lundstram – Came on to help protect the lead. Won a couple of tackles and blocks and just kept it simple. Will now start at QPR you expect so another chance for him to impress. Be a different kind of job with Coutts playing with him rather than Fleck and him but hope he can come in and keep that impressive midfield ticking over.


Manager: Wilder 8/10 – Running out of superlatives. He just keeps getting the same level of high quality performances. Once again at times we were a joy to watch. Yes, we maybe did not quite pass it as well as we can and second half petered off a bit but I think we are putting so much into first half showings and fast starts that we will struggle to keep up that level of intensity. Loved his interview after the game. Not sure he genuinely thought it was as poor as he described but it helped keep the players and even fans a little grounded. At the moment the players are doing a superb job but his and the rest of the staff's level of preparation, motivation and togetherness leaves us totally United.

Officials – The same ref we had v Norwich; Scott Duncan. He had a better game than that one! It was quite a physical game and we did put our foot in as did they. We ended up with 6 bookings and most were right. Stevens for 2 or 3 fouls (persistent), Coutts for a blatant drag back, O'Connell for a poor foul and then Fleck for a trip (and then was daft to get involved in pushing and could have got a second – their man pushed too). Baldock's seems a little harsh when he had let Viera off for one just before that was worse (on Brooks). He then booked the Leeds man for a foul not as bad; again, on Brooks. Not sure why Clarke got booked – after the goal – did he kick the ball away?

For a spell near the end when the pushing and shoving started it looked like he had let the game get away from him and started to lose control a bit. I felt that at times he punished little things but let worse challenges go – both ways.

The referee should have penalised Saiz for some of his theatrics and his ridiculous card waving every time we fouled him. Yes, we gave him some hammer but our players were rightly booked. Do not need to see him waving his hand around.

The major one he got wrong was the Phillips one. It was a straight red and I think when he is assessed after the game he will get marked down for not spotting a fairly obvious one. I think even the Leeds players and fans knew and if he had gone there would not have been much appeal at all. The fact Phillips apologised to Baldock twice after said it all. Still fortunately it did not cost us but I am hoping we won't have this guy again any time soon. H

Crowd – 34,504. Big crowd and both sets of fans were noisy from the TV. It was a good game and both fans appreciated the blood and guts of both teams. Leeds fans are a passionate bunch and you can see why some teams will go under at Elland Road but we seem to be inspired by these big grounds and crowds (helped by our own vociferous following) and the two big Derby wins show how we are handling the pressure. These two to come to the Lane now also! Three games versus Yorkshire teams and three well deserved wins.