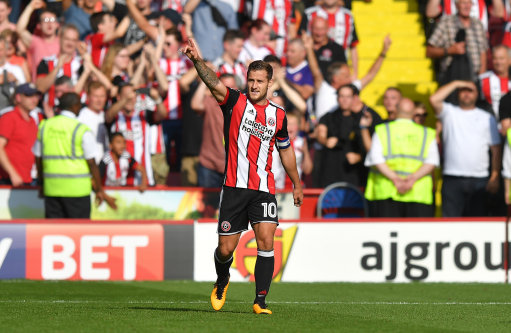 Billy Sharp Celebrates United's Third Goal

Its three wins from three at the Lane as United saw off Derby 3-1 thanks to a Billy Sharp double and a Johnny Russell own goal. United fully deserved the victory as they got about an expensively assembled County side and were better individually and collectively. United were full value for the win and even though some of the goals came in bizarre fashion; there was no doubt the Blades had been full value for the three points. They were quicker and more determined all over the field and swarmed about a highly fancied side. It was classic Wilder as the Blades pressed and harried and caused mistakes before their underrated football side did the rest. Derby were probably shocked by the intensity and pressure from the home side and the late challenge to get back in the game came too little, too late.

Manager Wilder had to make one change from the side that beat Barnsley last week as the suspended Leon Clarke was replaced by Caolan Lavery up top, opting to keep young protégé David Brooks on the bench. Derby had a side packed full of talent and could even afford the luxury of having Scotland international Chris Martin and big money signing Tom Lawrence on the bench. They still had a side packed full of talent and the Blades knew this would the toughest test at home this season.

In bright sunshine, United began well with Fleck and Coutts winning early tackles and won a corner and then a free kick as they looked to take control. A neat move nearly led to a chance from Lavery but the ball was cut out. Soon after, the pressure led to an early opening goal for United.

Huddlestone's back pass was not the easiest for Carson to deal with but his clearance was appalling and fell straight to SHARP who knocked the ball right into the far corner of the goal to give United the lead. It was only a half chance and whilst a bad keeping mistake; it was a superb opportunistic finish from United's leading scorer.

The delight from the goal was checked not long after as Vydra threatened a break but Wright made a great block tackle. Coutts then shot just wide as United continued their excellent start. Fleck then combined with Stevens and Sharp was just blocked out from the ball. Lavery flicked on and Sharp again nearly got in as United's excellent start continued. Derby were struggling to hold the home side back and Coutts again probed with Duffy getting into a good position but his probing run was held up just before he threatened to pull the trigger.

United's start came under threat as a rapid response saw some quick-fire football threaten to play Vydra in but Fleck was superb in covering ground to make a last-ditch tackle and stop a possible goal. Russell then shot over as Derby threatened to get back into a game they had been second best. However, the winger's next contribution was timely for the Blades as he inadvertently led to a pivotal moment in the game.

As United attacked with gusto again, swift interchange led to Duffy, Lavery and then Freeman play some neat football before the ball into the box caused real problems. RUSSELL (OG) tried to get his foot in but in trying to defend he somehow managed to knock the ball right into the far corner of the goal. It was all in one motion but it was a bizarre way for United to double their lead.

Derby won a free kick for a soft award from a tackle from Fleck but the kick was blocked and solid defending from O'Connell soon after saw United see out any danger and go in with a deserved 2-0 lead with an ovation from the home supporters as they left the field. United had pressed, closed the gaps and other than the odd break, the Blades had been well on top.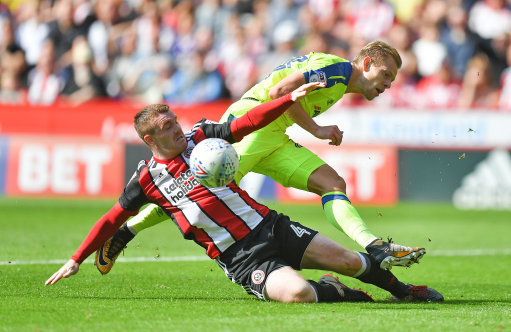 Derby County's Matej Vydra (right) is tackled by Sheffield United's John Fleck
After the break, Derby had more of a go and Huddlestone had a shot over the bar and then after Derby beat the offside trap Blackman saved Vydra's lobbed effort as he tried to knock it goalward. United had not had the level of control they had first half and the game became a bit scrappy with few chances either way. United had not been able to press the ball as much and Derby started to force them further back but O'Connell and Wright made a few key blocks to prevent any real chances at goal.
A long ball forward saw Lavery win a header but he clashed headed with Olsson and both players went down in a heap. The United player came off worse and looked very groggy before he had to leave the field with a potential cheekbone injury. Evans took his place.
Lawrence and Martin came on for Nugent and Russell just before the hour as Derby looked for a way back into the game. Duffy had caused problems all game but had had tired and Carruthers took his place. The sub was instantly into the action winning two tackles and making a clever darting run forward before Wisdom cleared. Carruthers then made a dart down the wing and sent over an inviting cross but it evaded all the United players in the box and was cleared. Bryson came on for Weimann as the game entered the final 15 minutes but United had continued to see off any efforts the away side mustered. Sharp bought a free kick from Keogh as he chased down a Stevens pass as the home side continued to do a professional job.
Derby had a half chance as the ball came across but Blackman anticipated the danger before a decent effort saw Lawrence's half volley flash wide of the goal in a rare effort for the away side.
Carruthers had done well but seemed to pick up a knock and had to go off to be replaced by Lundstram with just over 10 minutes to play.
Johnson headed a cross wide from Wisdom and then Martin tried to link up with Vydra but the visitors were struggling to really make any significant chance of note. Indeed, United went closest to the next goal, Stevens industrious afternoon continued and he sprinted clear before pulling the ball back. Sharp hit it with little back lift and Carson made a superb save to prevent the third goal. Soon after Freeman drifted past two men and went down but the referee waved away any appeals for a penalty.
The referee adjudged there would be 7 minutes of additional time to be played (with the 6 substitutions and the lengthy stoppage to the Lavery injury). In this time Martin flicked wide but not long after, the visitors gave themselves a lifeline. Little pressure on the ball led to Johnson floating a ball in and BRYSON was able to cleverly divert a header into the corner. It was poor marking and sloppy play but the Rams had a chance with still over 6 minutes to play.
United could have still sealed it when Sharp had a goal disallowed for offside and then a break saw Fleck in but he was denied by Carson when maybe a square pass to Evans could have sealed it. It had become remarkably open and now Derby sensed they could nick a point and threw bodies forward.
Evans helped keep the ball for a period in the corner and then a poor referee decision where Fleck was fouled but the referee played on and gave the offside that occurred soon after. This gave Derby a final chance to pump it forward and Carson went up to join the attack. The free kick was cleared by O'Connell and the ball was played into SHARP and with the keeper out of position, he coolly moved it forward, came inside and rolled it into the empty net. Jubilant scenes followed as the whole team, including Jamal Blackman joined Sharp to celebrate in front of the Kop.
Soon after the final whistle came after nearly ten minutes of stoppage time had been played but it was another win for the Blades. Manager Chris Wilder got his team together on half way in a huddle to emphasise the togetherness and then as he left the field jumped for joy leaving his side to take the final accolades from a delighted Bramall Lane.
United – Loved today. We won the battle in terms of battles, tackles, pressing, skill and football. We were the better side from start to finish and won deservedly. We won tackles, won the tackles when we had to and then when we got it played some super football too. Granted the goals came about in odd circumstances for the most part but regardless of this United were the better side and thoroughly deserved the win. United started the game really well and just as the Barnsley game, we began so well getting amongst them, being first to the ball and always on the front foot. For all the concerns about goals up top and if Sharp has enough help we piled men forward and managed to get into good areas. They struggled to hold us back early on and the goal, as with last week, seemed inevitable.
We may have made the odd mistake and at times not everything came off but I loved out forward thinking play throughout. We of course took a few chances from mistakes but make no bones about it we won and won well today. United were determined as a unit and really gave it everything. We did not have a poor player throughout the side including the bench and the replacements all did their bit. United set about Derby from the start and got the lead and built upon it. I felt we completely dominated the first half save from maybe the odd break and Fleck's determination to stop one key break summed it up. Everybody worked so hard for each other and the side just filled gaps, made blocks and saw off any danger. Going forward Sharp was a threat and Lavery worked hard before he went off. The defence did what they had to and the 3 centre backs did not do much wrong all game. O'Connell was excellent all game. I felt the wing backs defended well and got forward when they could. Carruthers made an impact in limited time and Evans did some ok things albeit mixed in with more off the pace play.
The main strength of the side was the midfield where we dominated. Duffy carried on from last week and got into pockets and caused problems and showed his football brain. He really does cause problems for defenders who do not know who is going to pick him up. However, just behind him is where we ultimately won the game for me.
Coutts and Fleck were superb. They did what they had done all last season but against better players. After some mixed performances, so far where the midfield had not always had its own way, today we completed dictated. Johnson and Huddlestone have gone for millions but the two in midfield won the battle completely. The fact they have Butterfield, Lawrence and Bryson in reserve sums up their strength in depth but we took them on and beat them fair and square. Fleck won so many tackles and harried back to make key blocks and interceptions. He played some good balls forward too and probed and prompted. Coutts was brilliant. Against his former team he simply ran midfield. He got it under control, sprayed it about and dictated play. He ran the game at times as United threatened to run amok first half.
Up front we need to get more in with Clarke still out and Lavery potentially out for a period after a bad knock. Lavery tried hard and Sharp keeps on scoring but we need another type of outlet. I think I saw the lad Sinclair in the crowd as I walked down the steps and he came out of the box (could be wrong but a quick Google search seemed to confirm it was him!). If it is him or whoever we need that extra pace as Evans still looks a bit short for me. Due to injuries, today and circumstances we did not see Brooks and you would hope we hold onto him into next weekend but you feel if we can get a few more in and get people back from injury and suspension (Clarke Moore etc) then we can keep holding our own. Today, proved the division is wide open and that if we can add some real quality then you never know; from a side that might be middle of the league, you start thinking maybe of higher places if we get that extra pace, athleticism and ultimately quality.
One of the biggest things for United is belief. Today showed that they need to have more of it. Against a multi-million-pound side, United bettered them individually and collectively. To quote Wilder, it was a 'proper performance.' The Blades continue to raise the bar and prove we belong here and should be aiming high. The fans were with them and the togetherness continues to seep around Bramall Lane. Today was not a fluke as yet again we won and won well. The team spirit was summed up as on the third the whole side, including the keeper ran the length of the field to celebrate with Sharp as one. It showed the unity of the group.
Derby – They were poor and made so many mistakes but big credit to United for their pressing, harrying and getting amongst them. They seemed a little shocked by our pressing game and early on could not cope as they got forced back. We had a few half chances before the goal and then after that continue to forced them back. They had a few breaks and showed some good pace on the break but in overall football did very little. The second goal was bizarre but they could not really argue with the deficit. United had been much better in all forms of the game. I thought Huddlestone and Johnson never got to grips with Coutts and Fleck and nobody picked up Duffy. Also, Freeman and Stevens seemed to get into good areas unchecked. They struggled with our formation which was a surprise as we have played it for over a year and it is not anything new. The other way Nugent barely had a sniff and although Vydra showed a few moments, they did not tear us apart or even get through us much at all save for one break where Fleck tackled really well.
Second half they changed it a bit and played further up the field. They had more of the ball but did into create much and it was still very pedestrian. They did come out more and eventually actually went more direct to Martin and some of their best attacks came from route one stuff (the one where Blackman saved and a few crosses and headers wide) but they never really carved us open and game seemed to be scrappily petering to a 2-0 win. Indeed, only Carson had a proper save to make second half when Sharp nearly sealed it. They never looked like doing much until the late cross and header and then United started to panic. The extra seven minutes of stoppage time helped Derby who sensed they could snatch an underserved draw but as they gambled forward got caught and United scored another comedy goal.
Opposition Man of the Match: Andre Wisdom. He made some mistakes and at times was a bit careless but overall, he was easily their best player. He defended well, got in tackles and came forward. At times, he seemed to be all over the backline and came at us too. If a few more of his Derby men had shown some of his desire and ability then they may have had more of a chance. For the rest of them, not sure many had that many good games. Keogh battled gamely and Davies also defended reasonably but they always seemed at full stretch. Martin won a few flicks and Vydra had a few moments but overall, they lacked quality all over the field. They got a goal and then threw men forward but it was too little, too late.

You look at the squad and the team and it is packed full of players who cost millions and all probably on substantially more wages than us and we bettered them for desire and ability today. They were second best in basics really and for all the players they have got; they never really caused too many problems. The fact they have players like Butterfield, Martin and Lawrence; all who cost more than maybe our whole squad sums up their strength but having big money, big earning players does not mean a thing if they do not win the individual battles as they did not today. I do feel they will be around the top 6 at the end of the season with the players they have brought in but have quite a few ageing players (Huddlestone, Davies, Nugent) that may not be at top of their game anymore. The likes of Lawrence and Wisdom will be key to the future of Derby and adding young hungry talent around them. Today showed that if they don't do the basics and compete and press; teams will take them off their stride and they will struggle. United will not be the only ones who pick off the slow, leaden footed midfield and defensive set up. Rowett is a good manager mind and I think he will get it right and still believe they will be right around the playoffs. Imagine Wilder with some of the players/talents they have (no disrespect to many of ours) though!


Opposition Weak link: Take your pick really. First half most of the eleven lost their battles and by some way and it was too late when they started to have a go. The keeper gave us our first with an utter howler and then was caught up front near the end but he made a few good saves also. The defence looked square but I felt in front the midfield were appalling. Huddlestone and Johnson had had fairly distinguished careers but today they never got to grips and looked so slow and pedestrian. Indeed, I have always liked Huddlestone but today he looked slow; as Coutts and Fleck picked him off stopping him having time on the ball and generally stopped them having any threat. Nugent was not really in the game and I felt Weimann and Vydra flitted in and out. They got a lift after the changes on the hour but never really created too many chances.


Blackman 7/10 – Solid again. He made a few routine saves and his handling was ok. Continued to look very 'Tracey-esque' as he dozed around but despite his ahem…calm demeanour cannot fault what he did in general keeping. No chance on the goal and most other things he was fine. He showed his passion when after being booked rightly for taking an age on a goal kick at 2-1; he ran 100 yards to join Sharp in the celebration melee for the third goal. His kicking continues to be a real mixed bag. He is fine when he rolls it out or even from a back pass but from his hands he struggles to meet half way and often finds touch. Something to work on but he has been a real positive surprise addition. Good to see Moore warming up pre-game with Eastwood and we have good competition here.

Freeman 7/10 – Sound again. I do worry about him defensively against quicker and better players but he had been ok so far at Championship level. Early on he was a bit slow and got caught a few times dithering and his positional play sometimes seemed off but he got better as the game went on. He made two great defensive tackles second half managing to stop some good opportunities. He also got forward well and if he stayed on his feet maybe he might have had a few more chances. A few nimble runs saw him lose his footing when well-placed but I liked he had done the defensive part well.

Stevens 7.5/10 – Really pleased with him. He had a few tricky moments at Boro and Cardiff against some pace and power but he had been mostly excellent. At home, he has put in three really assured performances. Today, I felt he did all the defensive stuff well with some good tackles, blocks but roared up and down the flank too. He assisted a couple of times for chances and showed his industry and level of fitness. He is a strong lad who does not lost many 50/50's either. Been a really good acquisition so far.

Basham 7.5/10 – Really good game where he gave them few chances and just did his job. A few hesitant moments but overall, he was really solid and was able to win headers and tackles and do what he had to do. Some nice pulled clearances and solid blocks; he has done well at home this season; needs to replicate some of these good performances away from home now after shaky games at Boro/Cardiff.

O'Connell 7.5/10 – Thought he was excellent today once again. Pressed onto the ball and won it, he attacked, was committed and never gave his man a moment. He showed he could get forward when given chance and often was on the overlap down the left. He showed some superb strength as he won so many 50/50 tackles all game often just brushing people off. Coping comfortably with the step up at this level.

Wright 7/10 –Solid game. Read the ball well to snuff out any through balls, mopped up and just was really assured. No fuss at all. First half he did not have much to do as we were the better side but even when they had a spell second half, I felt he did his job. Got in interceptions and blocks when he had to. Never seems to let the team down. At home; he is fine in the formation we play. Not quite sure against pace and power away if he can be as successful (see Boro/Cardiff and Basham) but that is for another day. The last two weeks he has been really solid.

Fleck 8/10 – Thought he got right back to the standards of last year. Maybe not so much on the ball; although played some nice balls, kept it well and generally was solid in possession, but most of his best work today was off the ball. He made so many great runs to stop balls and make tackles. He saved a one on one as he chased back first half and then made quite a few other runs back and made key tackles or put his foot in. He was relentless in his energy and determination to not let them have a chance or easy run out. Great effort today and felt he really got back to what he showed last season. Only slight fault is Bryson seemed to run off him on the goal although 4 or 5 of our players seemed to argue with each other whose responsibility it was.

Coutts 8/10 – Just narrowly beat Fleck to Man of the Match but either could justify the crown. Both of those two in midfield were superb and completely dominated the Derby midfield. We had all of the ball and the running and that was down to them. Coutts got on the ball and was so assured in possession. He moved it short and long, showed some superb touches and also ran away from players which I never thought I would say a few years ago. Indeed, Coutts left Huddlestone and Johnson trailing in his wake at times as we penned them back. Second half he did a good job for the team as he helped us continue to see of any attacks with good covering/interceptions but also using it when he could. Really had been very consistent for a long time now and cannot be far off a Scotland call up (could say same for Fleck).

Duffy 7.5/10 – Did what he does well. He got into those pockets, dropped off the striker and into the area just between midfield and attack. He gets on the ball, shows lovely touches and links well. He played in a few neat balls into areas and was involved in some of our better attacks including for the second goal. He makes a huge difference when he starts in what we do as an attacking side and whilst he does fade away in most games; the way he plays gives us a great chance to build a base at home. He is just a clever player and might not have pace or running of others but his football mind still is a factor even at this level. After the break as we sat in more, he was less of an influence and Wilder rightly gave us some more legs with Carruthers. He may not play every game but he has proved last two games what an influence he can have still.

Sharp 7.5/10 – He did not have many touches all game faced with two tough defenders in Keogh and Davies but what chance he had he always looked so dangerous. Took the first goal superbly. Sure, the keeper made a mistake but it was calm and clinical how he rolled it home. Ditto for the second goal. In between he nearly got another with an instinctive shot on the run after good work from Stevens. First half he linked up well when he could and always on the shoulder. He did not see too much of the ball second half but kept working and never gave the defenders a moment.

Lavery 7/10 – I was very critical of him in the week but today he worked hard. He won a few flicks, chased balls down and was involved in the second goal. On the ball never really got into too many goal areas but he did some good work outside the box. His touch was mixed but I felt he got in front of the defender and held it up when he could. At times, he was still was a bit slow to do things but he never stopped running today and summed up his attitude when he went and won a header that led to him going off with a nasty looking challenge. May be out for a period now as the injury did not sound good, seemed like a definite crack when he went in for the challenge.

Subs:

Evans – Came on for Lavery and had half an hour. Unfortunately carried on some of same sluggish form I saw the last few games and looked very slow as United needed more from him at this stage. He seems to be behind the ball too much and also physically not quite at it as he did not show same strength we saw in the game against United last season. He did win a few headers and at least showed some nuisance factor though and towards the end helped us keep the ball. He does need to show more when he does play and not sure he is ready to play significant minutes yet.

Carruthers – Thought he played really well in a 15-minute cameo. He looked like the Carruthers we saw last season who would show energy, get on the ball and drive at defenders. Showed some lovely quick feet and was able to help us keep the ball. He looked really good as he played some neat balls through and helped us stop them attacking the other way. A lovely piece of skill where he dragged back the ball and came out of it summed up his confidence. Shame he got a knock and had to go off.

Lundstram – Came on and helped us just see out time in final stages. Did not see too much of the ball but recall him winning a few free kicks as he got his body in the way. Lacks pace and mobility to start for me and needs to get fitter to seriously compete with the excellent midfield that played today.


Wilder 8.5/10 – A win and another superb performance. We got about them and won tackles, chased and harried and then when we got on the ball, we were able to move it about well at pace and cause real problems. It was industrious, energetic and at pace and we fully deserved to go in two up even if the goals were off. After the break, they came and had a go but we kept them at it and only the 'harum-scarum' last few minutes led to some panic. You did fear after the sloppy goal that they might get an unlikely point but we came again and had two chances to score even before Sharp sealed it. United deserved the win. We won the loose balls, showed passion, played good football and had the better chances. Wilder is beginning to realise that we do what we did so well last season, even at this level and we will be fine. We need a bit more pace and quality but we have enough to compete every week.


Officials – Andy Madley. Booked three per team. Blackman for time wasting, O'Connell and Fleck for cynical pull backs for us and all were deserved. Johnson and Keogh rightly booked for similar pull backs and Lawrence chopped O'Connell down. All seemed fair enough really. It was a game played at a fair pace and a number of tackles went in but I am not sure anything really bad and as I say the bookings were right. He struggled a bit with the advantage and one at the end when he played on and then gave them the offside giving them a chance to launch forward. Many grumbled about the additional time but Lavery was down for some time and there were 6 subs at different points second half so can kind of see why. We were taking an age to do stuff also in throws etc. He ended up playing about 100 minutes in the end which was a bit daft. It was time long before Sharp scored on 98 and a half minutes.

Crowd – 26,202 with over 2,000 from Derby that filled the lower tier. I felt United's crowd once again really appreciated the efforts from United's players and rightly applauded the dominant first half performance. After the break as we had to sit in more, the crowd willed them onto win key challenges and tackles and seemed to have helped us over the line but then they scored and it became nervy. The relief was lifted with the almighty cheer when the third clinching goal went in right at the end. I felt the place was really buzzing again as an almost full Bramall Lane celebrated another great home performance where the side worked so hard but played some good football too. You sense the belief continuing to grow that this group can more than hold their own at this level. We have a two-week break and then go to a fragile Sunderland can go there confident of getting our first point/s on the road before playing a struggling Bolton side. United really need to have no fear and the first 5 games have shown that we can easily live at this level.